Culinary is the art of preparing and presenting the food. A person who is an expert in this field - one who not only has a talent in the kitchen but that understands food science, nutrition, and diet - is called a Culinarian or Chef, and you can find them in hotels and restaurants around the world. Culinarians Day, held annually on July 25th, is a day to thank and celebrate the people who are serving up meals around the world, and the art of cooking in general.
(Fun Fact: the hat that chefs wear is called a Toque Blanche, which means white hat in French. It is believed that the height of the hat symbolizes the seniority and rank of the chef in the kitchen and the folds in the hat express the qualification of the chef.)
Around the world, this day is celebrated by conducting cooking events and competitions. At The Madison Senior Living, we will be celebrating with acknowledgement and gratitude of our Culinary Director, Stephen Sadler, and their team!
Joey, as he is known in the community, has over 30 years of culinary experience, including completing a culinary apprenticeship and obtaining a degree in hospitality management. He has an extreme passion for culinary services and serving others, an innate quality that makes him stand above and beyond his peers.
In addition to his culinary talents, he is also a skilled auto mechanic. When not working, Joey, a devoted husband and father of three, cherishes the time he can spend with his family. He says he would like to prepare a meal for actor Matthew McConaughey, because he is an incredible storyteller and Joey would love the opportunity to talk with him over dinner.
The signature sweet our Culinary Director prepares for our community is chocolate banana caramelized banana pastry cream. It is always a favorite when served, due to the rich and sweet flavor. His favorite dish to make is fettuccine alfredo with a homemade alfredo sauce.
Joey's quality and presentation of the meals is exceptional. He consistently receives positive feedback from the residents regarding the quality of the food. Joey promotes and creates an environment where residents are treated like family.
The Madison Senior Living's culinary team takes a considerable amount of pride in terms of the quality of meals being served to our residents. The team is very dedicated and always willing to do whatever is necessary to ensure the residents' wants and needs are met.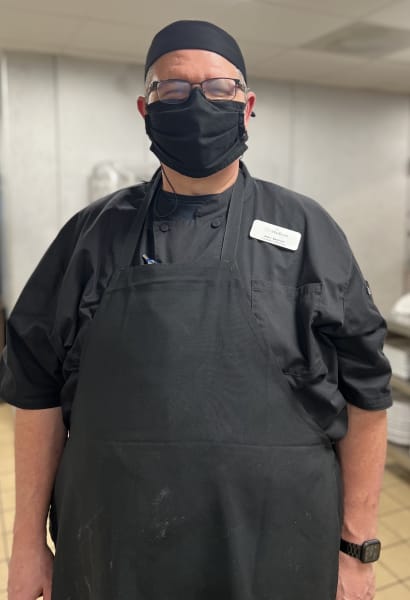 We could not do what we do at 18th and Vine without this hardworking team! If you want to get in on the Culinarian Day Fun, you can also celebrate the day with your friends and family by cooking some new recipes. Up the game by sharing pictures or video of the recipe and your adventures on social media platforms like Facebook, Instagram, Twitter, etc. tagged with #CulinariansDay.