Don't step on a Bee! Sounds like sane advice, but did you know it's also a day of recognizing the incredible impact that bees play on our ecosystem? There are roughly 4,000 bee species in North America and about 20,000 around the globe that pollinate everything from flowers to vegetables. In fact, bees pollinate approximately one in every three bites of food you eat, which makes them essential to the health and prosperity of countless ecosystems worldwide. Crops such as apples, cranberries, and broccoli all rely on bees. Fruits like blueberries and cherries are 90% dependent on honeybee pollination, as are almonds. To pollinate the roughly 1.2 million acres of almond trees, the California almond industry needs about 1.8 million bees.
However, one in four species of bees are facing extinction. From fungus to pesticides, bees are facing rapidly declining numbers. In the US, the honeybee population has declined 60% since 1947.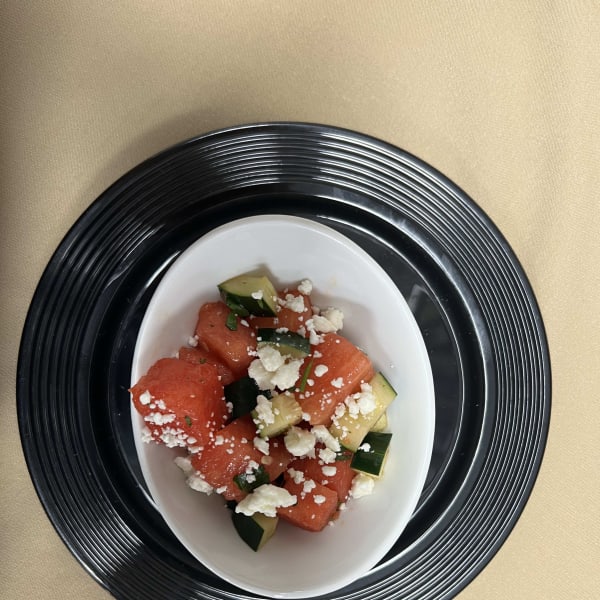 This year, The Madison Senior Living is celebrating "Don't Step On A Bee Day" by utilizing locally sourced honey from Messner Bee Farm in our watermelon cucumber salad with a honey lime dressing on July 10th.
This event holds significance to me because I spent summers at my uncle's farm in central Missouri and always had a supply of honey to enjoy. He raised bees and sold honey to the local community.
By recognizing this holiday, we hope to bring awareness to this global issue and try to start a conversation about what we can all do to help reverse this trend and help build the bee population back to its pre-WWII levels. And while you're at it, don't step on a bee. We need them here.