In 1983, President Ronald Reagan proclaimed November as National Alzheimer's Disease Awareness month, bringing the plight of those facing the diagnosis, and the need for a cure, to the forefront. Today, there are more than 6.2 million Americans living with Alzheimer's Disease, and while research continues, a cure is yet to be identified. Arrow Senior Living is working to heighten awareness of Alzheimer's disease during the month of November through discussion and education.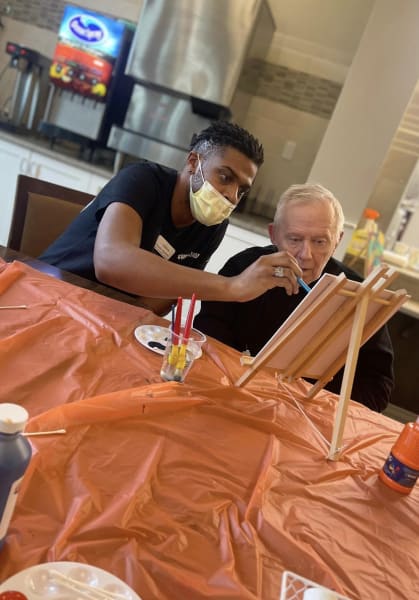 Alzheimer's Disease is the most common type of dementia. It is a progressive disease that affects one's memory, behavior, language, and participation in activities of daily living. Individuals living with Alzheimer's will need higher levels of care to ensure their safety and ability to do everyday things. There is no cure for Alzheimer's disease. There are medications that help treat the symptoms and help slow the progression, but nothing that will cure or reverse the effects.
The best way to engage individuals living with dementia is in a person-centered approach. Every single person is unique in their history, likes, and dislikes. By discovering as much as we can about the individual, we can create a plan for them to be successful and to feel at home.
The Madison Memory Care Neighborhood is such a special place, and special places don't just happen! We've thoughtfully created an environment that is tailored to the unique challenges of the residents we serve. Our days are filled with purpose, joy, intention, and life. It is a place that truly feels like home.
At The Madison Senior Living we continue to increase our knowledge of Alzheimer's through ongoing education, so we can better empower those living with the disease and help their families to better cope. Our Memory Care Neighborhoods maintain awareness of this disease, while offering engagement, safety, and comfort to our residents.